Officer Mark Zatzkin
Officer Mark Zatzkin resigned after being investigated for use of force incidents and domestic violence complaints. Zatzkin was hired by Waller County Sheriff.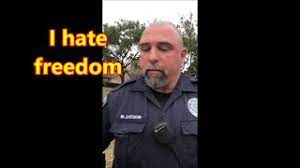 Officer Mark Zatzkin Discipline Records and Videos Below
Officer Mark Zatzkin has gotten in trouble many times working at the Jersey Village Police Department, from Domestic violence complaint, use of force and the list goes on and on.
While at the Jersey Village Police Department Officer Zatzkin started off as a patrol officer and worked his way up to a corporal. At one point Officer Zatzkin got into some trouble for shoving a woman inmate in a jail cell "video below," causing her to hit her head twice. Officer Zatzkin didn't call for medical treatment and left her laying on the ground. After that incident Officer Zatzkin was demoted back to a patrol officer. Later Officer Zatzkin eventually was promoted back to a corporal.
On 01/20/2021, Officer Zatzkin once again violated civil rights and department policy. This is after Chief Foerster warned the City Manager, Austin Bleess that Officer Zatzkin was a danger to the public.
Feckless city leadership is going to cost this city millions of dollars. Austin Bleess knowingly put Zatzkin back to work and he ignored all the early warning signs the former chief warned City Manager Bleess about. It is very clear that Chief Foerster tried to do the right thing and warned the city.
On 01.21.2021 Officer Zatzkin resigned from the Jersey Village Police Department. The question now is did Chief Riggs allow Zatzkin to resign without being served notice of investigation?
Chief Riggs already stated that he had received complaints and they were currently under investigation. This means Officer Zatzkin resigned under investigation and is no longer eligible for rehire according to city policy. Apparently Chief Riggs allowed Zatzkin to resign prior to being served with the investigation notice. How is Chief Riggs going to investigate his own lack of action on-scene?
Officer Mark Zatzkin resigned from the Jersey Village Police Department and was hired as a Deputy with the Waller County Texas Sheriff's Office.
Videos
Confidential Disciplinary Police Files Officer Zatzkin Would Prefer You Not See
Open Records Request of police reports, records and Police emails on Mark Zatzkin in the Link at the bottom of the page.
See Hundreds of pages of Police Reports and Record on Mark Zatzkin Zatzkin's
See Hundreds of pages on Officer Mark Zatzkin Police Reports, records and Police emails
.